We are a the best in Ottawa Surrounding Area #1 Deck Builder. We work in the Ottawa Capital. We work with Composite materials, Pvc, Cedar, docks, decks, decking, Pressure Treated Wood, design and deck repair for all. We build pergolas and us Deck Builders in Ottawa have the best design team. If you want a spa backyard with a deck accenting your pool with a interlock path to your porch steps. We can make it happen. Friendly customer service. Fence and Ottawa fences builders. Grass and Sod Have a new lawn. Customer Service
Monday-Sunday: 7am-9pm
Newdecks.ca starts with you, the client.
We take pride in developing unique and innovative outdoor spaces.
Our client-focused idea is that we can deliver a finished product that our clients are proud to showcase to family and friends.
Decks | Fences | Interlock
Sod | Landscape
Repairs or Brand New
We Do It All
---
GROUND DECKS
Best for Privacy in the New Homes That are Closer Together.
We Build Fences as Well. 'Lots' of Them.
PVC / COMPOSITES | PRESSURE TREATED | CEDAR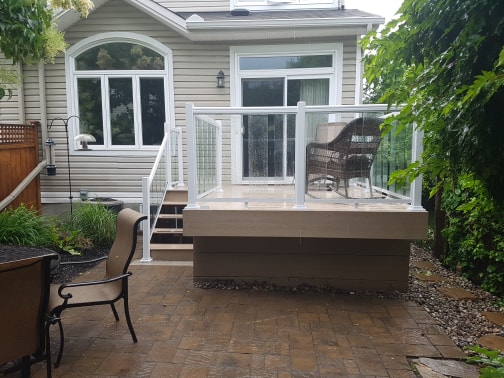 Landscaping – We Master at This, as Well.
---
"Some great glowing testimonials!"
"Always friendly service"
"Positive: Professionalism, Quality, Responsiveness Value"
"Would highly recommend Trustworthy & Affordable"
"I love my new deck! The builders were professional, courteous and very nice guys. They were collaborative and took the time to answer any questions I had, and found room in the budget to accommodate an upgrade to aluminum railings that look amazing! On schedule and on budget. End-to-end dealings were great."
– Kim S.
"Excellent communication throughout. And deck turned out great.
I spoke with many deck building companies and Newdecks offered the most competitive pricing."
– Emily L
---
Booking 2024 Now


 
 To Start The Estimate Process, 
 
Please Fill In The Information Below↓
 
We Keep All Information Within Our Company, Always. Thank You, 22 Acre Management.
 

---
Listed on many other sites like Houzz, Liveway, Best In Ottawa
Ottawa Community Area Deck Builders – Our Social Media
We have been seen in Kanata, Nepean, Barrhaven And Even Been Seen Working On A Few Lakefront Cottages On The Rideau River in Kars, Almonte And Down Towards The Opinicon.
As Top Professional Deck Builders. We work in the Ottawa Capital. We work with Composite materials, Pvc, Cedar, docks, decks, decking, Pressure Treated Wood, design and deck repair for all. We build pergolas and us Deck Builders in Ottawa can design you a spa backyard with a deck accenting your pool with a interlock path to your porch steps. We can make it happen.We have the best design team. This will show our prospective client's different deck and landscape ideas. Examples of this will be in your estimate.